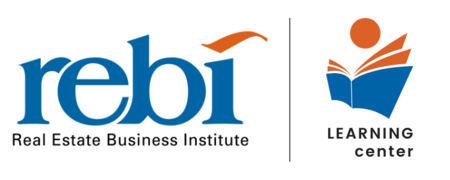 General FAQs
What can I do in the REBI Learning Center?
Why is there no CE for these courses?
REBI is not a school or CE provider.  Our online, virtual, and classroom course offerings attract students from multiple states and countries. This makes it prohibitive to obtain and award CE given the various CE requirements from each state's Real Estate Commission. 
If CE is your primary objective, it may be offered by a provider licensing our courses. Review the course calendar and contact the provider directly to determine if their course offering includes CE.
How do I sign into my account?
If you have ever received an email from us, you already have an account.  Sign in using your REBI login credentials.  You can reset your credentials if needed or, contact us to assist.
What is the Learner Profile?
Your Learner Profile will appear at the top of your screen after you are signed in.  It allows you to tailor the current content and courses that are recommended to you.  From your Learner Profile, you can rate your interest in certain categories and subject areas.
What are the Interest Categories in My Learning Profile?
All on-demand or live content is categorized. On your profile page, you can indicate your level of interest for each category from 0 (low level of interest) to 5 (high level of interest). The featured page will then recommend content based on your rankings.
How do I access my courses / webinars I've already registered for?
You can access courses for which you've registered or attended from your Learning Dashboard which will appear at the top of your screen after you are signed in.  All webinar recordings are available to active CRB and SRS designees HERE regardless of attendance.
How do I find a resource or product or course?
You can search browse the Learning Center by category and/or keyword in the Search box located to the left.  You can also find curated collections on the home page.
How can I tell the price of a product or course?
Pricing is determined by REBI membership level.  If you are not logged in, full pricing information can be viewed by hovering over the REGISTER button.  If you are logged in, only the pricing associated with your membership category will display.  If you feel your membership level and associated pricing is incorrect, please contact us so we may assist.
| Access Date | Quiz Result | Score | Actions |
| --- | --- | --- | --- |
If you purchased an online CRB, SRS, C-RETS and/or RENE course on the former Center for REALTOR® Development site (prior to February 15, 2022), click here to access. Courses will remain available for 12 months from the initial purchase.
Quick Links
Need help?
Please note, our office hours are:
Monday through Friday
8:00am - 4:30pm (Central)
[{"type":"text","required":true,"label":"Name","className":"form-control","name":"name","subtype":"text"},{"type":"text","subtype":"email","required":true,"label":"Email","description":"We will contact you using this email address.","className":"form-control","name":"email"},{"type":"textarea","required":true,"label":"How Can We Help?","className":"form-control","name":"textarea-1644925585480","subtype":"textarea"}]
Contact Us