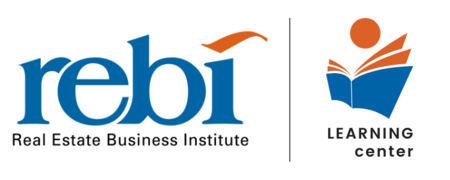 Online / Self Study
Self-paced, self-study and web based courses associated with REBI's credentialing and certificate programs. Convenient and affordable access.
More Info
Online / microEd
An expansion of REBI's educational portfolio beyond credentialing programs. Skill-based approach to learning delivering information in small, highly focused chunks so that you can find quick answers to specific problems.
More Info
Virtual / Live
Instructor-led web based associated with REBI's credentialing and certificate programs. Convenient and affordable to access.
More Info
Classroom / Live
Instructor-led in a classroom associated with REBI's credentialing and certificate programs offering group interaction and networking.
More Info
Upcoming Webinars
Features a myriad of just-in-time topics facilitated by business and industry leaders, and are an excellent way to stay informed on the latest trends, get new ideas.
Recorded Webinars
Archived recordings of past webinars available exclusively to CRB and SRS Designees.
Upcoming Live Events Sponsored by REBI
Contains 1 Component(s)

Includes a Live Web Event on 12/05/2023 at 3:00 PM (CST)

Join presenter Dr. Jessica Lautz for an exploration of the top trends in today's real estate and housing market. Prepare for 2024 by understanding the driving factors that will affect the needs of buyers and sellers.

Buyers and sellers have changed what they want in a home, how they use their home, and how they search for a new home. Meanwhile, their relationship to the agent is evolving as well. Buyers are facing higher mortgage rates coupled with rising prices and have struggled to find the perfect home. Alas, some have found creative ways to enter the market. With demographics have shifting, who is today's housing consumer and what do they want from their real estate agent or broker?

After this webinar, you'll know how to:

Identify and work with today's housing consumers.
Navigate the current economics of the housing market.

Free and exclusive to CRB and SRS designees only.


Jessica Lautz

National Association of REALTORS®

Dr. Jessica Lautz is Deputy Chief Economist and Vice President of Research at the National Association of REALTORS®. The core of her research focuses on analyzing trends for both NAR members and housing consumers. Through the management of surveys, focus groups, and data analysis, she presents new and innovative ways to showcase results. She effectively utilizes Research data to educate and impact policymakers on the state of the housing market and discusses research findings in major media outlets and international presentations. In 2021, Dr. Lautz was named one of Housing Wire's Women of Influence, a list representing 100 of the most influential women in leadership in the housing industry. In 2022 and 2023, Dr. Lautz was named a RISMedia Newsmaker in the Influencer and the Crusader categories, respectively. She also volunteers at Nottingham Trent University as an industry fellow mentoring real estate graduate students.

Jessica received her Doctorate of Real Estate from Nottingham Trent University in the United Kingdom. She also holds a Master's in Public Policy from American University and undergraduate degrees in Political Science and Law and Justice from Central Washington University.

$i++ ?>

Register

CRB Designee - Free!
CRB & SRS Designee - Free!
SRS Designee - Free!

Contains 6 Component(s) Includes Multiple Live Events. The next is on 12/13/2023 at 1:00 PM (CST)

This one-of-a-kind course instructed and authored by Marki Lemons-Ryhal will help build your online presence to connect with consumers and boost your leads.

---

$199 early bird registration prior to November 13, 2023.
$259 Thereafter

(Includes access to the Vault -- a $495 value!)

---

Wednesday, December 13 and Thursday, December 14, 2023
11:00 am - 2:30 pm each day (Pacific)
12:00 pm - 3:30 pm each day (Mountain)
1:00 pm - 4:30 pm each day (Central)
2:00 pm - 5:30 pm each day (Eastern)

---

Join us for this live virtual classroom with the course author herself, Marki Lemons Ryhal as we explore the components of a successful digital strategy and how they relate to your personal brand and daily workflow.

Discover how to effectively engage with 2.6 billion people who tell you about their need to buy and sell real estate every day and in real-time. Stop buying leads and create lead funnels to finance your dreams. Shape your business and challenge inevitable industry conditions by creating lead systems that add customers to your CRM while you sleep.

Identify how many contacts you need to add annually to your CRM.
Implement the activities that an agent must perform daily to build a sustainable business.
Coordinate four ways to utilize your calendar to increase accountability and productivity.
Discover what real estate questions consumers are asking the internet.
Create 365 relevant real estate problems to solve in one calendar year. Solve one problem per day in less than 60 seconds.
Identify one piece of relevant content that is non-negotiable, and you must create it daily.
Research content ideas that will allow you to connect on a personal level with people in your sphere of influence
Prepare a preliminary 12-month real estate marketing calendar.
Understand how to create relevant and engaging content – photos and video.
Learn how to use 26 tools for effective lead generation.
Discover the benefits of Instagram and Facebook as lead generation platforms, and how to effectively use them for lead generation and engagement

Learn how to use a plethora of tools that will help you curate, schedule, and post engaging content, while saving you countless hours!




Your registration includes a Zipped file containing three PDF documents (available after course completion verification):




Social Media Calendar Template:

A 12-month planner with goals & activity tracker (fillable PDF; can also print)

Social Media Post Planner - 680 Post Ideas:

Useful Tools (graphics & scheduling)
Calendar Items (13 post ideas)
Post Checklist (Instagram & Facebook)
92 Real Estate Post Ideas
32 General Post Ideas
45 Quotes
32 Question & Answer
13 Video Ideas
169 World Holidays (January through December)
48 General Real Estate Hashtags
48 Listing Hashtags
35 Neighborhood Hashtags
8 Branding Hashtags
12 For Fun Hashtags
61 Daily Hashtags
45 Quote Hashtags

Facebook & Instagram Post Templates - 154 Posts:


Listing - Open House - Coming Soon - Just Sold (35 posts)
Question & Answer (20 posts)
General Real Estate (46 posts)
Real Estate Tips (13 posts)
Testimonials (10 posts)
Quotes (30 posts)




Marki Lemons-Ryhal

ABR®, AHWD, CRB, C-RETS, CRS, RENE, SFR, SRS

A proud Chicago native and fifth-generation entrepreneur, Marki Lemons-Ryhal is a renowned real estate educator and keynote speaker specializing in social media training for brokers, banks, and title companies. Over the last 14 years, Ryhal, the founder of ReMarkiTable, LLC, has taught more than 500,000 students and written more than 100 classes approved for continuing education.


After earning her Master's degree in business administration and teaching hotel and restaurant management courses on a collegiate level, Ryhal made a move to real estate, becoming a loan originator in 1999 and opening up her discount real estate brokerage three years later.

In 2007, she became an expert in foreclosure and short sales in anticipation of the market crash. "I have the ability to interpret trends and pivot my business quickly," says Ryhal. "I pivoted my business yet again in the world of real estate due to COVID-19."

$i++ ?>

This is a virtual classroom. Appropriate classroom behavior is expected.
Please

keep your audio on mute

until you are called on to speak. This will help limit background noise.
If you would like to use the "chat" feature, remember it is public, and a record of the chat is kept and archived.
Your

video must remain ON at all times

for monitoring purposes. Any student who does not remain on camera for the entire course will NOT receive credit for attendance. There are no exceptions to this policy.
You must

arrive on time for all sessions and breaks and you are expected to stay until the end

. Arriving late and/or leaving early will result in no course credit. There are no exceptions to this policy. We are able to track all login and logout times of every attendee.
Avoid distractions such as your phone, keyboard, other devices, etc.
Use meeting cues such as "raising hand" virtually.
If you need to step away for a few minutes, send a private chat to the instructor or course monitor to let them know.

Video and audio recording is not permitted

.

The instructor and/or monitor reserves the right to remove you from the session if you do not adhere to the policies for this virtual offering.

If you are removed, you will not be readmitted.

CE CREDIT: There is no CE available for this online/virtual course.


CERTIFICATE CREDIT: You must be in attendance the entire time to receive credit, earn the certificate and have access to the Digital Lead Gen Vault. If you log in late, leave early, or are NOT on camera, no credit will be awarded, and no partial credit is granted for this Course. There are no exceptions.

---

CANCELLATION/REFUNDS: A refund, less a $50 processing fee, will be extended if cancellation notice is received by close of business on the Friday before the course. No refunds will be issued after that date.

Register

Non-member - $259
CRB Candidate - $259
CRB Designee - $259
CRB & SRS Candidate - $259
CRB & SRS Designee - $259
SRS Candidate - $259
SRS Designee - $259
C-RETS/RENE Certified - $259
| Access Date | Quiz Result | Score | Actions |
| --- | --- | --- | --- |
Quick Links
Need help?
Our office hours* are:
Monday through Friday
8:00am - 4:30pm (Central)
* We are closed for the Thanksgiving holiday starting at 12pm central, Nov 22nd through Friday, Nov 24th.
[{"type":"text","required":true,"label":"Name","className":"form-control","name":"name","subtype":"text"},{"type":"text","subtype":"email","required":true,"label":"Email","description":"We will contact you using this email address.","className":"form-control","name":"email"},{"type":"textarea","required":true,"label":"How Can We Help?","className":"form-control","name":"textarea-1644925585480","subtype":"textarea"}]
Contact Us